Friends in high places
We reached the gates, and Harry stopped to look back for a final view of the green sweep up to the grey and pink granite of the house. He gripped my arm.
'It's good to know you are being looked after while I shall be away at sea. And that there is to be provision for Mama and the girls. It only needs be for a few years, and then we can make a capital little home together, you and I.'
I laughed. 'A few years? Do you plan to become an admiral, and retire, so soon as that?'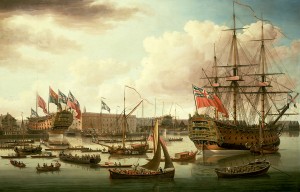 He grinned. 'Perhaps not quite so soon! But I shall have begun to make my way by then, and it will be good to have a snug nest in England to return to, and Jenny keeping my slippers warm for me.'
He had changed so much already in the short time we had been apart – we both had. And even if we changed no more to each other, he would change in his views of happiness and of his heart's needs. He would look for someone else to guard the nest while he was away – to rear his children as well as keeping his slippers warm. That was certain, and as it should be. I felt the sadness of an even greater parting than the one that lay ahead, but would not show it. For a few minutes longer we could play at dreams together.
So I entered into the game, and we walked down the hill to the village, talking of where we would fix our home. Cornwall, he said cheerfully, was as good a place as any, as far as he could see. But we need be in no hurry to come to a decision on that. And it did not much matter, as long as we were together.
We came in sight of the village inn, and two children playing outside. They belonged to the inn-keeper: a boy of three or four, a girl some years older. She was scolding her little brother over something he had done, but lovingly. It might have been Harry and I, ten years past.
He said: 'Things have fallen out very well, Jenny. For you and me both. It is not just that Sir Donald's interest has got me my place in the Navy. He likes me, and will continue to help. And he has influence with the Admiralty. Even today, that counts for a great deal. I shall do my best to justify his favour, but it will be his further favours that assist me to do so. It is easy to be overlooked for promotion if one has no friends in high places. And I mean to do well.'
He spoke with great determination. My heart was chilled, and I had nothing to say.