New US edition: THE DEATH OF GRASS
Originally published in 1956 (in the USA as No Blade of Grass, under which title it was filmed by Cornel Wilde), The Death of Grass marks a watershed in the history of the twentieth-century post-apocalyptic novel.
'I was writing in the shadow of John Wyndham – a kindly man,' John Christopher (Sam Youd) later said. 'My view was bleaker than his … I recognize and venerate goodness in humanity but do not assume it, or expect it.'
Available in the UK as a Penguin Classic since 2009, The Death of Grass is now also available in the US in paperback and ebook: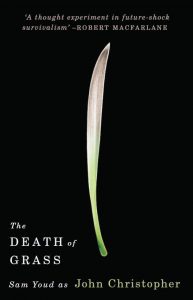 As Robert Macfarlane writes in his introduction:
'We must forget them,' says one character of the starving Chinese millions early on: this before it is clear that England, too, will fall to the virus. And when it does, the English forget themselves. John Custance begins the novel as a thoroughly decent chap, a middle-class civil servant and father of two. By its end he has murdered and executed a number of people, including – in a genuinely disturbing scene – an innocent woman whom he shoots in the face with a 12-bore, He leaves London a liberal humanist, and arrives in Cumbria a proto-Darwinist, interested only in those actions that will most efficiently permit the survival of himself and his group.
For further information, see www.deathofgrass.com.