Over the vanished land
Two days after they left Gibraltar, land appeared on the port side. Michael went on deck with the others, to watch the mist open out into brown hills, flecked with small, incredibly white villages. During boat drill at ten o'clock he looked over the heads of his detachment, beyond the purple and bronze waves, to the sun-brilliant land. When he was able to dismiss them he went to the rail again and strained his eyes towards Sicily. It was fading into the distance when lunch was called.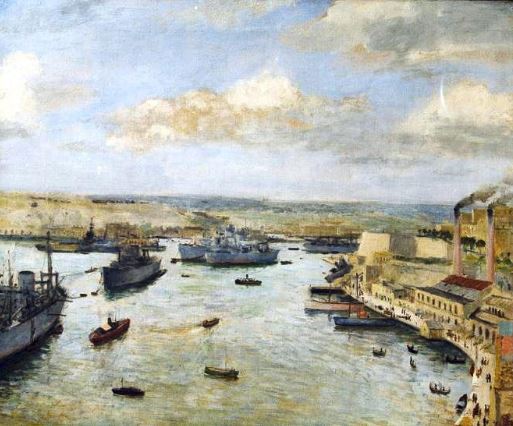 After lunch the land was a shadowy, brown mist again, slipping by hour after hour, fading to nothing and gradually reappearing. Not until evening did the hills build up again as the troopships moved in towards Taranto. Michael thought excitedly: perhaps a diversion to the Italian front or, at least, a stay here. A week, even a few days …
At seven o'clock he could pick out Taranto quite clearly. With glasses he could see the town beyond the harbour. He watched it hungrily until, just after eight, he was quite sure the troopships were going straight on. For the last time Italy faded into the mist. He stayed at the rail until it was impossible to distinguish it from the other clouds that were rising in long grey bars over the horizon.
At first his mind was petulant. Not even an overnight stay in Taranto harbour where, at least, there would be the boats piled up with fruit – peaches and grapes and melons – as the Italians peddled them. Unfair. But he saw Jennings's red-mooned face checking the guard on the lower deck and thinking automatically: 'Poor devil!' remembered his own leave, the quiet consolidation of love and affection already achieved and known. There was all that solid attainment behind him, whatever happened.
Besides, he thought happily, I spreadeagled Riley in my first over.
As he went below the clouds were high over the vanished land.