NO BLADE OF GRASS: London screening
On 14 August, Science Fiction Theatre is screening Cornel Wilde's 1970 film adaptation of John Christopher's The Death of Grass under its US title, No Blade of Grass.  Once a month Science Fiction Theatre screens rarely shown 'classic' sci-fi, commissioning new artwork for every screening: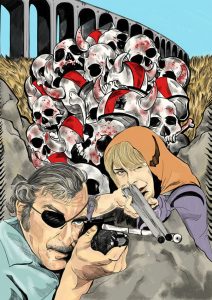 The screening will be preceded by a talk from farmer, scientist and explorer Abi Aspen Glencross of Future Farm Lab / The Sustainable Food Story / #OurField – who will ask the question 'How do we avoid a food-pocalypse?' – and there will be a follow-up podcast, going into more detail about the film and why it was chosen. This earlier audio discussion features an interview with actor Anthony May (Pirrie), with vivid recollections of the making of the film.
No Blade of Grass has always had something of a Marmite effect. One viewer recently described it on Fifty Words for Films ('Films old and new reviewed in 50 words') as 'the worst film I have ever seen'. And this is what John Christopher himself had to say:
Before it came out my London agent told me Cornel Wilde had said this was going to be the Great Anti-Pollution Movie, and there would be a book-of-the-film to punch the message home. He was disabused of that. I've never seen it. Years later it was shown on TV, and I thought I might manage it from my own armchair, with a comforting glass of whisky on hand. I lasted to the first commercial break, then went to bed.
(Here he describes the origins of the novel and how it saw the light of publication.)
On the other hand, another critic described the film as 'a caustic, blistering look at human nature, and the ungracious way our species may countenance its end … No Blade of Grass is also one of my all-time favorite science fiction films of the 1970s, and a cinematic work of art that Paul Simpson (The Rough Guide to Cult Movies) accurately termed "a tense and provocative" picture.'
Why not find out for yourself?
Where: The Institute of Light, 376 Helmsley Place, London  E8 3SB
When: Monday 14th August 2017 // doors 7pm, talk 7.30pm, film 8pm
Tickets: £6 via IOL