Classic fiction from 1964
1964, it seems, was a great year for adventure novels. Joshua Glenn, in his HiLoBrow blog ('Middlebrow is not the solution'), has listed his ten favourites published that year, and the list reads like a roll-call of classic popular fiction.
There's Tom Berger's Little Big Man, narrated by 111-year-old Jack Crabbe, the last survivor of Custer's Last Stand (and memorably filmed with Dustin Hoffman in the title role). There are spy fiction classics You only live twice from Ian Fleming and Funeral in Berlin from Len Deighton. Representing science-fiction there is J G Ballard (The burning world), and William Burroughs' cut-up fiction Nova Express. And on the crime front, there's Richard Stark's fifth 'Parker' novel (The score), as well as one of Sam Youd's own favourite writers of the genre, John D MacDonald with The deep blue good-by, featuring boat bum 'salvage consultant' Travis McGee.
And also o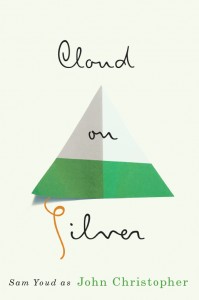 n the list is John Christopher's Sweeney's island, summarised on the blog simply as follows: "A group of wealthy London socialites are invited on a sailing trip which strands them on an uninhabited tropical island; things get post-apocalyptic".
Sweeney's island was known in the UK as Cloud on Silver, and is now republished under the original title by The SYLE Press.