Did you think I would keep my word?
'It is more than a week since my body was clean, and I found soap out there in the pantry.' He helped her to put the bath down beside the stove. She looked at him. Her voice matter-of-fact, she said: 'There is only one room and we have no screen. So while I wash myself you must lie down and look the other way. Is it agreed?'
Anticipation, excitement, stirred like a feather on his nerve-ends.
'Agreed,' he said.
He did not turn round until the splash and trickle of water told him that she was washing. He rolled over slowly, careful to make no noise. Nadya was kneeling in the bath, rubbing her wet limbs with a piece of yellow soap. The light from the paraffin lamp and the glow of the stove threw gleams of rose and gold on her glistening flesh. Her body, when she reached up to soap her back, was a splendid arc, bearing the lesser but equally magnificent arcs of her breasts.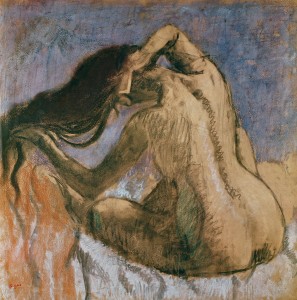 He said: 'You are lovelier than ever, Nadya.'
She turned to look at him, untroubled and unashamed.
'It was agreed that you do not look.'
'Did you think I would keep my word?'
She moved her head slowly. 'No.'