Over the rim of the world
'Hello, Katey.'
She put her bundle down at the mouth of the cave.
'I've brought you a few things,' she said. 'Some fruit, and cooked yams, and a gourd of wine.'
'That's very kind of you. Thank you.'
'Are you all right, Sweeney?'
He nodded. 'Yes.'
'What do you do up here?'
'I forage for food,' he said, 'and cook it.' He pointed to where, on a patch of level ground near the stream, he had arranged stones as a crude fireplace. He smiled. 'Apart from that I sit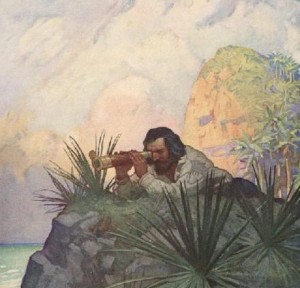 and watch and wait.'
'What do you watch?'
'The world. Or, at least, the island and the sea.'
Looking across the valley one saw Mount Proteus big against the sky, crowned with its cloud, but on either side of it there was the ocean, blue tipped with silver.
'And wait for what?' she asked.
Sweeney shrugged. 'For whatever is likely to happen. For the ship coming over the rim of the world, to take us back to England.'
She said miserably: 'I've given up hope of that.'
'You must go on hoping.' He spoke as though admonishing a child. 'It is the one thing that matters.'
She felt a comfort in listening to him, however trite and meaningless the words. And an urge to talk herself, to put her wretchedness on show and have it healed.
'The island,' she said, ' … that cloud … I feel I can't bear it. And the animals and plants. They caught a pig two days ago with shrivelled legs. And this morning I saw the monkeys … distorted, horrible.'
'It will all pass,' Sweeney said.