Civilisation three square meals away from anarchy?
On Tor.com ("Science fiction. Fantasy. The universe. And related subjects"), multi-award-winning Australian author, editor and artist Cat Sparks discusses The Death of Grass – The One Book That Shook My Faith in Nature and Humanity.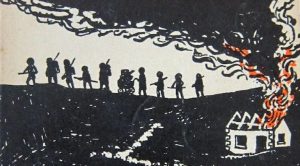 Brought up "on a steady British diet of Enid Blyton, Swallows and Amazons, Joan Aiken and Narnia; stories featuring plucky young kids banding together and fighting the just fight. Stories in which goodness generally prevailed", Cat eventually "stumbled headlong into The Death of Grass … the book that shattered my preconceived notions of human hope and goodness as default in literature".
A US edition of The Death of Grass (originally published as No Blade of Grass) is now available from The SYLE Press.