God knows we need the money
He thought he had drawn another blank, until he saw them on a table by the wall: a couple of Edwardian oil-lamps. One was missing a shade, but they had not been converted into electric table-lamps. The wicks turned up, in response to the pressure of his finger and thumb on the small winding wheel. One of them seemed to be quite new.
He said: 'I'll give you fifteen shillings each for these.'
He had a customer who had asked him to look for paraffin-lamps against the time which he feared when there would be no more electricity. The fear seemed irrational to Rod, and he thought it likely that if it did happen paraffin would be impossible to come by, but he was willing enough to execute the commission.
The woman looked suspicious, and he realized he had offered too much. She would have been happy at five shillings for the pair. Thirty shillings made her feel that she was being tricked. In fact, he could not ask more than fifty shillings of his client. He realized he still had a lot to learn about his new profession; certain basic principles he doubted if he ever would grasp.
She began to haggle with him, and he merely shook his head and went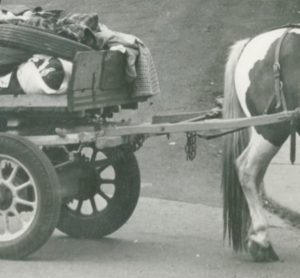 downstairs. She caught him up outside in the garden, carrying the lamps.
'I'll take it,' she said. 'God knows we need the money.'
He paid her, reading her unspoken thoughts. She was a defenceless woman, her life and her husband's smashed by circumstances beyond their control, at the mercy now of a swindling travelling salesman. He walked away, sick with disgust, to his horse and cart.