Abandoning ship
He heard the throb of the engines stop, and the lights winked off. It was a moment in which the full understanding came home to him that they were abandoning this stout and comfortable refuge for all the hazards and uncertainties of the ice-field. Olsen came up from the engine-room, slipping a torch into his pocket.
'All is done,' he said. 'Now we say good-bye to the Kreya.'
Mouritzen said: 'You said you would sail her back into port – that at last you would take her to the breaker's yards.'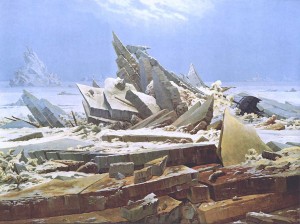 Olsen clapped his hand on Mouritzen's arm. 'If the ice does not squeeze the heart out of her, I can still do all that, Niels! And maybe she will still be afloat in the spring. She is a tough one: she has survived much already.'
Mouritzen looked down to the little party on the ice. They had a helpless look in the dark dawn.
'This is an undertaking, Erik,' he said. 'One would not do it for choice.'
Olsen shrugged. 'There are few things one would do for choice. Necessity is better, I think.'