Night bear
Olsen awoke during the night; his watch told him it was nearly three o'clock. About him there was the sound of steady breathing. He found his boots, slipped them on, and quietly made his way outside.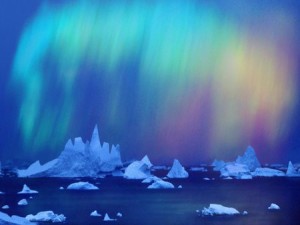 When he had relieved himself, he stood for a while looking around. There was no moon yet, but the stars were sharp and heavy in the sky. Across the northern hemisphere a broad, pale, luminescent band moved slowly – brightening, dimming, always passing across the heavens, always transient and always renewed. The air was intensely bright: the light from stars and Northern Light reflected everywhere from the ice-field – although the field of visibility was quite small, objects shone within it, and it gave the impression of being larger than it was.
Right under the ridge there was a hump of brown in the powdery whiteness of the snow. Katerina, the bear. He was glad now that the girl had insisted on bringing the animal. The strangeness of it, the touch of fantasy, somehow made their position seem less hazardous.