Voices calling
The voices started about an hour later. Mandy was the first to hear them. The kitchen window was barred, but she had opened it to clear the cooking smells. She called up the stairs excitedly, and they left their work on the other windows and came down to see what was happening. She said fearfully:
'They were calling – through the kitchen window.'
'Who?' George asked.
Selby said: 'Calling what?'
'Marie first. And then I heard Ruth's voice. And Leonard's. They were asking me to come out.'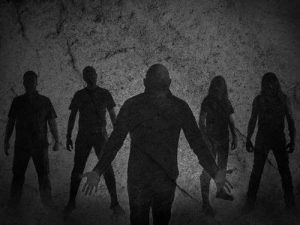 They looked at each other, and headed for the kitchen. There was no sound apart from the clock ticking. She might have been imagining things, Douglas thought. Then, while they stood listening, the voices came from somewhere outside. Ruth's voice.
'Mandy. Come out, Mandy. We won't hurt you. There's nothing to be afraid of, Mandy. Come out.'
Selby moved quickly and quietly, taking the steps over to the window, and mounting them. He stared out, his head just above the level of the window ledge.
'See anything?' George asked.
'I don't think so. No.' He called out: 'Ruth, you come in here. Come in the house, so that we can talk properly. We'll open the front door for you.'
There was a pause, and the voice said again: 'Come out.' Its tone was neither threatening nor cajoling, merely flat. Others joined with it – Leonard's recognisably, and then a jumble of voices. 'Come out. Come out. Come out.'