Count it in hours
The light from the headlamp covered the place where the mouth of the tunnel had been. There was none there now. The collapsed wall lay in a heap of shattered rock against which the river waters broke in angry black foam. Here and there a patch of gypsum blossom winked up in the light.
They all stared for a moment in silence.
Albrecht said: 'You have not shovels here among your equipment, Henry?'
'It wouldn't do much good if I had. We should want a couple of bulldozers to cope with that. And there's the river to consider.'
Peter said grimly: 'I've torn it properly, haven't I?'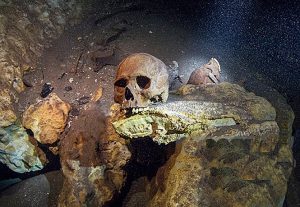 'How long shall we have to wait,' Heather asked, 'to be rescued? I've got some chocolate with me.'
Henry said slowly: 'No one is going to rescue us along that route.'
'Why not? They'll know something's happened when we don't get back for tea. They will have spades and everything. If you get enough people digging away at it, I don't see why you couldn't clear it.'
None of the others spoke. Heather said impatiently: 'Well, why not? Even if we have to spend a couple of days in here, we can manage. We shan't die of thirst.'
'No,' Henry said, 'we shan't do that.'
His light shone on the broken stone and the water swirling against it.
Albrecht asked quietly: 'How long?'
'It's impossible to say; but you can count it in hours, and not many either.'