A tic of the eye
Marie left the kitchen to get the rest of the things from the dining-room, and there was time – not much, but enough, and without snatching or gulping – to get herself a drink from the bottle behind the jar of vanilla sugar. It was nearly empty, she saw. Enough for tonight, but she would have to get some more in the morning. She contemplated herself for a moment with melancholy and sad disgust. What, in any case, could she have given the boy? What could she give anyone? Even George …
She could see that the strain was beginning to tell on George; the small tic, unnoticed probably by the others, that pulled from time to time at his left eye was a sign of that.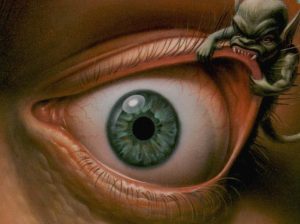 And he was drinking more – not ostentatiously, as he usually did, but with a quiet compulsiveness. And as he drank, he became morose. When Jane, after supper, sought to press the suggestion that the women should stand guard at night as well as the men, he rejected the idea with a sharpness that was almost vicious. He said coldly:
'No. And we won't discuss it any more. I'll decide who goes on watch, and when.'
She was relieved that no one challenged him. In this mood, had one of the men done so, there might have been violence. She had seen George hit a man, without warning, simply for smiling at something he had said. And yet he was not by nature a violent man – no one knew that better than she did. Not even, normally, in drink. But drink and this mood together were the danger.