Packed off to our beds
I had hoped that the sleeping draught he had proposed might be forgotten, or failing this that it would be sent up to the privacy of my room. No such relief was granted: Michael and I were put on parade, like a couple of children, and the family watched us take our medicine. I suppose it was something that we were spared having it spooned into our mouths.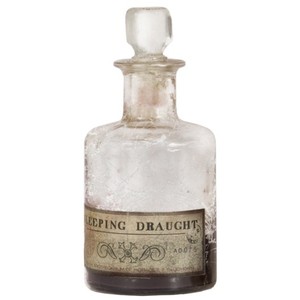 The bottle was brought by Henry, the butler, and the dosage solemnly measured into wine glasses. Michael, glancing at me, shrugged ruefully, and I supposed that if he was required to bear the indignity I ought not to complain of it.
Dr Roberts' Black Drops, as Sir Donald called them, were not black but a dark green potion, sticky and somewhat sweet. Henry was waiting with glasses of water, and I was glad to rid myself of the taste, or most of it. A little stayed, cloying, on my tongue. Then, admonished to sleep well and arise refreshed, we were packed off to our beds.
In my room I undressed and washed and put on night-gown and cap. I felt no sleepier – rather, in an odd way, feverishly awake – and I wondered if Dr Roberts knew what he was about. I put out the main lamp, leaving the other burning beside my bed, climbed between the sheets, and picked up my copy of Mrs Gaskell's North and South.
That it engrossed me less this night was not through tired­ness. My mind felt active, but at the same time less controlled. The author's words and images danced confusingly, inter­spersed with thoughts having no relation to the events or characters of the book. I thought of poor Beast – of Andrew's face fierce first in anger and then in suppliance – of Sir Donald and Michael … And to my astonishment, I thought of my father.