'Scream, if you like'
He moved towards me without haste. For an instant I was paralysed, a rabbit in front of a stoat; before fear changed and spurred me to action. I managed to get to my feet as his hand caught my dress, and heard the cloth rip. I ran, blindly, to be away from him. He had me within yards, his right arm hard against my throat, his left hand gripping my wrist. I screamed, my throat compressed against his arm.
He said, his own voice scarcely raised: 'It makes no difference. Scream, if you like.'
I struggled against his hold. Michael had saved me from Edgar, but here there was no one. He was forcing me forward. I had thought he meant to strangle me, but he did not even try to muffle my cries. Then I saw the shaft head in front, a few feet off, and knew his intention.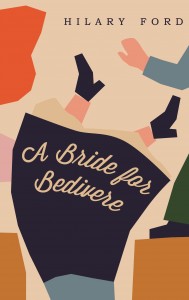 I struggled harder, in an effort not only to tear myself free but to avoid the gaping hole. He altered his position, dragging me. I tried to brace myself against the pull, but futilely. I heard my boots scrape against stone. We were beside the shaft, and he lifted me as easily as though I were a child. Emptiness was beneath me, and now I clung to him, holding on instead of pulling away. He pressed me back and down, and I still kept a grip on his coat. Then with a sudden sharp movement of his arm he forced me hard against the top edge of the shaft. The shock drove breath from my body: I let go and fell into blackness.