A low respectful whistle
Covertly I stole glances at Harry as he walked beside me, telling me the news from home. He was wearing a new suit, with long trousers, and looked very smart. He looked older, too, but his cheeks were as pink and his brown hair as unruly as ever, his nose snubby, familiar, beloved. I squeezed his arm, when he had stopped talking, and said:
'You've not changed, Harry.'
'Have I not?'
He grinned at me but looked a shade put out. I realized that change was something he looked for in himself – who had been an errand-boy and now had a great future ahead of him – and added quickly:
'Except that you're handsomer and – and taller, I think­ – and astonishingly elegantly dressed.'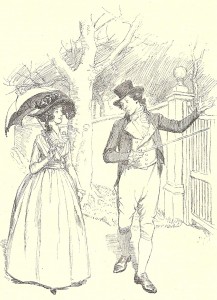 He roared with his old laughter, which had comforted me so often in the past.
'Well, that's enough to be going on with!' He turned his gaze on me critically. 'And you've changed, too, Jenny.'
'Have I?'
'I would not say you're any taller, but you look better. It seems the Cornish air agrees with you. As to elegance …' He looked admiringly at my blue velvet coat, trimmed with ermine and lined with pale blue silk. 'I've never seen the like! But there's your voice, as well.'
'My voice?'
'Voice,' he repeated, emphasizing the vowel sound. 'You're learning to speak like a lady.'
His remark confused me. It was certainly not something I had consciously set out to do, and I was embarrassed and also a little angry that Carmaliot and its inhabitants should be capable of working such a change in me.
Fortunately we were not obliged to continue with the subject. We came to the gates, with the gatekeeper doffing his hat to us as we passed through. Above us, beyond the sloping lawn with its sculpted trees, stood Carmaliot – the great granite sweep of the front, the towers at either end, the lance of the chapel glowing in sunlight. Looking at it, Harry gave a low respectful whistle.