A land of perpetual sunshine
I had forgotten what good stories he told, as well: long and involved but so engrossing that I never wanted them to stop. This was one of my favourites, about a dog we had lost some months before. He had been called Bosun, and in my father's tale he had been so taken up with his nautical name that he decided to go to sea. So he had signed on (my father gravely said) as a Ship's Dog. All sorts of adventures came his way, many familiar from previous tellings but some new, or newly embroidered. But the end was always the same: the ship was wrecked in the South Seas and Bosun, clinging to a spar, was washed up on the shores of the Fiji Islands. And the islanders, finding him on the sands and being amazed by this creature who was black like themselves but so strange in shape (they had never seen a dog before, my father said), made him their King, so that now he sat on a golden throne, with a golden bowl to eat from, in a land of perpetual sunshine.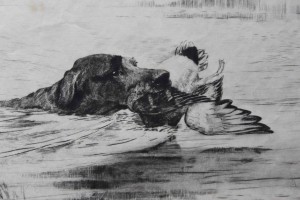 That was the bit I loved most, and we were still some way from it when my mother called me from the back door. She had to go out, she said, and I must come in and look after Baby. I protested that I was listening, but she simply repeated it more sharply, and my father said I had better do as I was told – we would finish the story another time. And I whispered to him fiercely:
'I hate him. I hate him!'
He patted me on the shoulder, not unkindly but his voice was firm:
'Nay, lass, you mustn't hate your little brother. That will never do.'
So I went into the house with dragging feet. He was lying in his cot, and I thought how happy I had been before he came to spoil it all. I stared at his round fat face. Babies often died, didn't they? Why could not he?
That was where the scene ended. I could remember nothing after, but remembered those few minutes with the sharpness of yesterday. Could it be true – had it happened like that? Had there been a time when it was my father I loved, Harry whom I hated? Wretchedly I was forced to acknowledge it. My hatred was not so pure and simple as I had thought it; but neither was my love. I looked at myself, and did not like what I saw.