Have you thought of us?
Mrs Simanyi was standing on the little promenade deck above and behind them. She called out to Nadya and threw an apple, which Nadya caught with her left hand. She held it in the air above the bear's head, and Katerina rose on her hind legs and took it. Over her shoulder, Nadya called to Mouritzen:
'Hello, there Lieutenant! I have had no chance to talk with you yet.'
'I was on duty last night,' Mouritzen said. 'This morning, too.'
Nadya let her eyes rest on the woman standing beside him.
'I did not ask for reasons.' She smiled. 'Have you thought of us – me and Katerina – on your voyages?'
'Of course. How could I not?'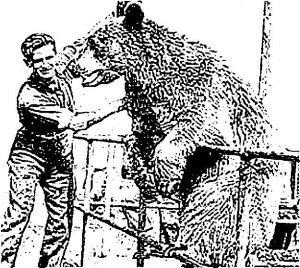 'We have thought of you. Katerina was sick, pining for you, I think. She is very faithful, this bear.'
'She may be contented,' Mouritzen said. 'Since she left, there has been no other bear in my life.'
'But you do not even come to embrace her!'
Smiling, Mouritzen advanced towards Nadya and the bear, whose jaws were still working on the apple. Nadya jerked the lead slightly and Katerina turned clumsily round to meet him. She put her paws up to his shoulders, as she had done with Nadya, and reached forward to lick his face. There was laughter and some cheers from the crew members, who had moved up behind them. Mouritzen craned his neck to keep his face away from the wet tongue.
'There!' Nadya said. 'He does not love you. He turns away from your kiss because he has found someone he likes better. It is so with men.'