I saw him!
'There. He was there. I woke, and looked out, and I saw him.' She turned to look into their faces, her own drawn, desperate. 'I'm telling you the truth. I'm not mad! He was there.'
'Near the place where the little avalanche came down?' Hamilton asked.
'On the other side of it. I couldn't be mistaken.'
Douglas asked her: 'What did he look like?'
'Like Andy! How else could he look?'
'I meant, what was he wearing?'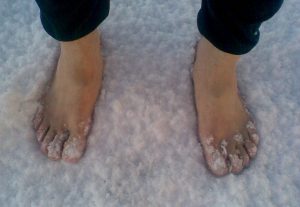 'Only his pyjamas.' A sob racked and tore at her. 'In that bitter cold. And he was carrying a basket.'
It was this last which was the touch of nightmare. Jane felt herself shiver uncontrollably as she in turn looked out. The white slopes were empty. The wind, which seemed to be getting up, whipped a faint powdery spray from the rubble which marked the place where the avalanche had descended – apart from that there was nothing, no movement, no hint or sign of life. A boy in pyjamas, carrying a basket. An illusion – what else? – but the thought was terrifying.