The dark green crest
'Hold on! She's caught …'
Herning was on the bridge between the two hatches. He was half kneeling, and he turned his head towards Mouritzen, as though to make out more clearly what he was saying. The Kreya was rolling deep into a trough. Holding on to a stanchion, Mouritzen saw the dark green crest high above his head before everything dissolved. In the dissolution, he thought he heard a cry. He did hear a savage rending sound, as metal strained and yielded and was torn away. When he could see again, there were only two men on top of the hatch.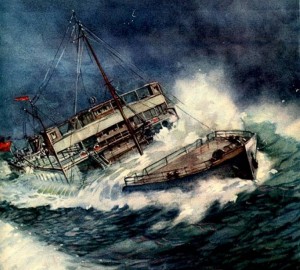 The hatch cover had gone completely, fallen into the hold and half blocking it, like a lid fallen into a box. Mouritzen peered down into the depths. The hold lights had gone, but the derrick lights showed enough of the scene. Water bubbled round the edge of the shattered steel. A horse was pinned under it at one end, clearly dead. The huddled figure of Herning lay just beyond the horse. There was no sign of life there either.
He barely had time to take in all this before another wave lashed across the ship. Water rushed down into the hold, with a sucking noise like a titanic drain.