A saucy lesson or two
He moved towards the open door of the hut, attempting to draw me after him. I was shocked again by the full realization of his intentions, now undisguised. At the same time I understood that all this had been planned – that he had brought me here with a single end in view; as, almost certainly, he had brought other more compliant girls before.
I resisted the pulling hand, and said: 'If you have no respect for your own honour as a gentleman, at least think of mine! What cause have you to think I would permit you liberties?'
He laughed. 'Cause enough, where a pretty girl is concerned!'
I said sharply: 'I see one thing – that you are no gentleman. Let me go.'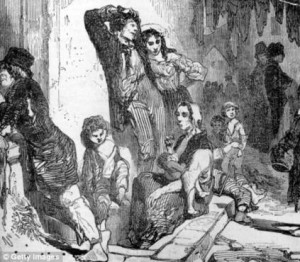 His fingers tightened on my arm. 'No gentleman, eh? The trouble is, you are starting to fancy yourself a lady. But wearing a riding habit and learning to sit a horse doesn't make a lady. Don't come the innocent maiden with me, my girl. And don't try to tell me you've not learned a saucy lesson or two in the Portsmouth alleyways. You should be glad I'm willing to overlook your squalid apprenticeship.'
My right hand was free. Without hesitation, I swung my arm and struck him hard across the face. The slap was loud and my fingers tingled from it.
Edgar stared at me again, not in admiration but black anger. His body tensed. I fancied he would assault me and, having had a taste of his strength, drew back. We were a long way from either the village or the house, and if I cried out I doubted that anyone would hear me. I had been wrong to strike him; by doing so I had only added fury to lust. I should have swallowed the insult, vile though it was.
But he did not attack me. Instead the hand that held my arm let go. He said, his voice low and savage:
'You were not wise to strike me, Janey. It is something you'll regret, I promise you.'