I didn't know you had interests in that direction
'Rupert dropped in to see you. He's had no chance to have a chat with you since you arrived.'
Britton said, over his shoulder: 'No, that's right. We both seem to have been too busy skipping about.' He found his brush and displayed it with a small, triumphant movement. 'Now would be a good time, except that Piers has asked me to join some kind of séance up in his room.'
It brought me up sharp, with a small shock of astonishment. Surprise had two edges; that Britton should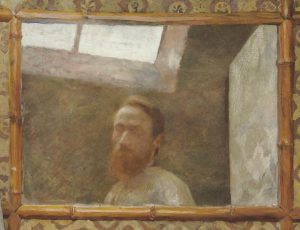 have agreed to come to the séance, and that Piers should have asked him without consulting or even mentioning it to me. The first was the more bewildering, but the second stung like a tiny barb, carrying a shaft behind it of quite inestimable size. I looked at Britton. He had moved in front of one of my mirrors and was brushing his thick, sandy hair back. He took out a small comb and ran it through his beard.
I said: 'You needn't dash away. Piers or Lulu will come down when it's time. As a matter of fact I shall be going up with you.'
He looked round with mild surprise.
'Is that so? I didn't know you had interests in that direction.'
'I'm rather surprised to find you have,' I replied.