'Do you believe in God?'
We walked for a few minutes in silence, our hands clasped lightly, the air grey and breathless about us to the cold, shadowy heights of the sky. A fat old man and a young girl walking together on a drab Sunday morning. But that barb for once was painless beneath a greater pain. People passed us; a small knot of fashionably dressed women, two of them carrying ivory-backed prayer books.
Olivia broke the silence. She said: 'Do you believe in God?'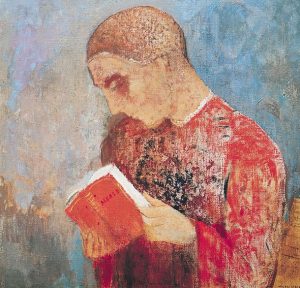 Even Olivia's voice seriously posing the question could not give it any valid meaning. In our youth we had played with words in this way, inventing abstractions and fitting them into propositions. But what a long time ago.
'I don't believe in things,' I explained. 'I only experience them. They happen to me, in a series of events that one day, presumably, will come to an end. That's all it amounts to. I haven't experienced God, whatever it may be.'
We were at the crossroads and the traffic barred our way. Olivia said: 'I think we might as well go back.'
I took her arm and steered her across the road.
'No,' I said. 'We'll go right on.'