I don't like the look of this
They covered the other rooms in the basement first, looking behind rows of tins, sacks of potatoes and big sugar and flour canisters in the food store. The room that Hamilton had mentioned was a jumble of crates and boxes, stacked almost up to the ceiling in some places. They worked as systematically as possible through them, moving them from one side of the room to the other. It took about half an hour, and although there was no radiator they were sweating by the time they finished. Hamilton looked at the rearranged junk, and shook his head slowly.
'I really thought he might be here. It's next door to the one he was in.'
They went out silently, and were heading for the stairs. On their left was the small bare passage leading to the basement door; the lamp Hamilton was carrying gave enough light to make it plain that no one was there. But the thought came to her, and she said automatically:
'The door …'
They all stopped. Hamilton said: 'What about the door?'
'Could he have gone outside? It's probably silly.'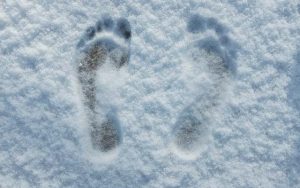 'In weather like this?' Hamilton asked. 'And I don't see that he'd have the strength to draw those bolts. All the same …'
He went past her along the passage to the door, and lowered the light towards the floor.
'They've been drawn, all right.' With his back to them, and stooping, his voice sounded odd. There was a resonance in the passage. 'I don't like the look of this.'