Oh, no! They'll fight
I didn't want to stay any longer in my room. It was almost time, anyway, for dinner; the early dinner of the séance evenings. I went out on to the stairs. Cynthia was coming up. She said huskily:
'We thought it might be fun to introduce them.'
She had put Brock's lead on, and he was obediently following her up the stairs. I let them pass, and went after them, bored and vaguely curious. All the others were still in Piers's room when we arrived; all but Piers himself. In the centre of the carpet The Cat was licking a dainty flank.
Helen said: 'Brockie dear, this is The Cat.'
Cynthia released Brock from his lead. He stood still for a moment, raising his front paws off the ground in a gesture of mild, benign astonishment, his snub nose sniffing towards this new acquaintance. The Cat paused in her toilet and watched him. Brock began to move towards her, warily and delicately, pausing at each step in his characteristic pose of attention, a front paw hanging in space. As they reached touching distance Lulu cried:
'Oh, no! They'll fight.'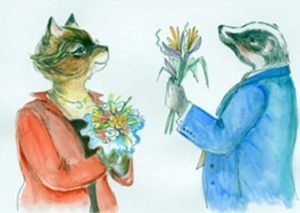 But Brock put out his slim, probing tongue and, with a tender gesture, touched The Cat's fur. And The Cat, still friendly and innocent but no longer diffident, leaned forward to rub against the badger's coarser coat. It was one of those rare occasions of completeness and melodrama that life ironically flings in to tilt the scales against our patiently, wearily acquired realization that completion and melodrama are non-spontaneous and artificial. It was Helöise and Abélard.
The door opened and Blodwen came in. She had managed to have a fair number of quick drinks; her face was flushed. She began: 'What about dinner?' and then saw what we were looking at. 'What have we got up here? A bloody menagerie?'
The others, their attention divided between the animals and Blodwen, did not see that Piers had come in quietly behind her. He was looking at the animals too. And he was hating them.