One man who won't leave his corpses, one woman dead, and half a bottle of gin gone
'She's dead.'
'Thank God for that,' Miller said. 'I'll have the bottle, then.' He put his hand out and, after a momentary hesitation, Ashley gave it to him. Miller took the stopper out and wiped the rim on his sleeve. Then he hefted the bottle in his hand, weighing it. He shook it, listening to the slosh of liquid.
'It's bloody near empty!' He stared at Ashley, and said quietly: 'There's getting on for half a bottle gone. What happened to it?'
'She was in pain – moaning and groaning all the time.' He looked up at Miller helplessly. 'It was the only thing that quietened her a bit. I couldn't stand her being in all that pain.'
'When did she die?' Miller asked.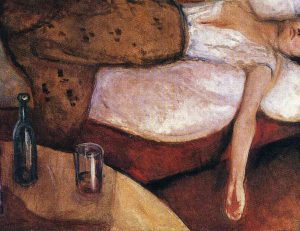 'Not long ago,' Ashley said. 'Quarter of an hour, maybe twenty minutes.'
'Stand up,' Miller said. 'You can stand, can't you? Here, I'll help you.' He transferred the bottle to his left hand, and assisted Ashley with the other. They were about the same height. Standing close to the older man, Miller said:
'How long ago did you say she died?'
'Half an hour, perhaps.'
'You lying bastard!' His voice was still calm. 'She's been dead since just after we left you, hasn't she? You drank that gin yourself. You sat there and guzzled my bloody gin, didn't you?'
'I only had one drop. It was when I realized she was dead. It just got me …'
'Shut up! You stink of it. You can't even stand straight.' Without warning, he swung a savage open-handed blow which caught Ashley on the jaw and sent him flying to sprawl on the bricks a foot or two from the dead woman. Miller went over after him. 'Stand up.' Ashley groaned, but made no attempt to rise. Then Miller kicked him viciously in the side. He kicked him twice more, and turned away. He said to Matthew:
'That's what I call a good afternoon's work. One man who won't leave his corpses, one woman dead, and half a bottle of gin gone. Let's get home.'