The better the day, the better the deed
He was grinning still, and I thought there had never been anything I loathed more than that grimace – not even my father's face twisted in drunkenness. He said:
'And if I were to carry out my threat, it might not do, might it? As you say, you are not with child. In fact, it might well be you have your maidenhood still – I'd be inclined to believe you have. And that is something that can be tested.'
I flushed before the insolence of his look but kept my chin up. I did not deign to reply.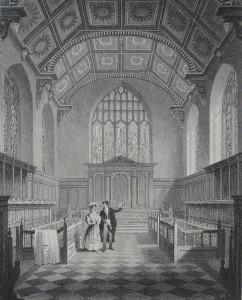 'Which brings me to another reason for choosing a rendez­vous such as this, a place where no one is likely to come and from which the noise even of a bellowing congregation cannot be heard. I'm prepared to accept you came here a maiden. But rest assured you will not leave it in the same condition.'
I was sure he was bluffing but nonetheless horrified that he should speak of such a thing, in such a place. I said:
'I cannot believe that even someone as debased as you would attempt an act that desecrated a holy chapel.'
The smile left his face but what remained was more frightening: an ugly look of resolution.
'Do they not say the better the day, the better the deed? It goes for places, too. I am going to have you, Janey, here in this holy chapel. And afterwards I'll make it good by marrying you here. You can wear white, as a virgin bride should. But we'll know better.'
'As to marrying you – never! As to the other foulness … I know you are stronger than I, and probably no one would hear my cries, either. But I promise you something: you will need to kill me before you get me.'
'I do not think so. Not kill. But I've already discovered you for a wild cat, and I can imagine you would struggle hard. You would bear the marks of my mastering you, and if you ran crying with them to my father my story might not be easy to sustain.' He shook his head regretfully. 'A pity, that.'
It had been a bluff, hideous but no more, and I had outfaced him. I said:
'I am going now. Do not try to stop me.'
I thought he might reach for me as I turned away, but he did not. Disconcertingly, the grin was back on his lips. I turned about and, for the first time since coming into the chapel looked at the door by which I had entered. I stopped, shocked at what I saw. The door which I had left open had quietly been closed. And standing there, hidden by it when I came in but in plain view now, were the two grooms who were his cronies.