More – or less – beastly
A significant character in A Bride for Bedivere is Beast, the ugly cowering mutt whom Jane befriends and who – like many of the others she meets at Carmaliot – turns out to be not quite what she thought.
He was black and white in colour but with none of the decorative and harmonious blending of those opposites that the carriage dogs showed. His blacks and whites clashed in jagged streaks and distorted splotches. Nor did his coat have anything of their glossy smoothness; it was shaggy and unkempt. His face was grotesque, with large hairy ears like flaps on either side of a white pointed muzzle across which a twisted stripe of black had the look of a scar.
Apart from his ugliness he was a big dog, and I viewed him with trepidation. (I had not met the mastiffs then, or I should have been more nervous still.) As he opened an eye and stared up at me, I had a mind to beat a retreat. But his timidity was greater than my own – scrambling awkwardly to his feet, he backed and then ran away. He was an even more comic sight in flight than he had been in repose. I could not recall seeing an animal so absurd.
Beast follows in a long line of famous canines who have trod the literary scene. At the very beginning there was Argos, once renowned for his speed and strength, whom Odysseus discovers when he finally makes it back to Ithaca. The dog is lying neglected on a pile of manure, infested with lice, old and very tired. Unlike everyone else, Argos recognizes Odysseus at once.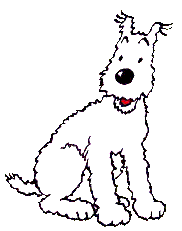 He has, however, just enough strength to drop his ears and wag his tail. Unable to greet his beloved dog – this would betray his true identity – Odysseus passes by, shedding a tear, and enters his hall. And Argos dies.
Perhaps equally renowned, though rather less tragic, is Hergé's Milou (aka Snowy), plucky companion of the great boy detective Tintin:
But surely most famous of them all is the eponymous villain of The Hound of the Baskervilles, as described in his first and only encounter with Dr Watson:
I sprang to my feet, my inert hand grasping my pistol, my mind paralyzed by the dreadful shape which had sprung out upon us from the shadows of the fog.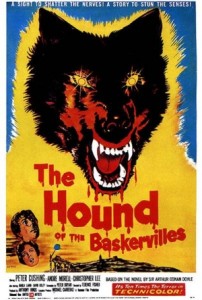 A hound it was, an enormous coal-black hound, but not such a hound as mortal eyes have ever seen. Fire burst from its open mouth, its eyes glowed with a smouldering glare, its muzzle and hackles and dewlap were outlined in flickering flame. Never in the delirious dream of a disordered brain could anything more savage, more appalling, more hellish be conceived than that dark form and savage face which broke upon us out of the wall of fog.