Camelot
It was Sir Thomas Malory in Morte d'Arthur who created the image of Camelot, the fabled capital of King Arthur's realm and potent symbol of the Arthurian world. The precise location of Camelot is not revealed, however, and most scholars regard it as being entirely fictional. Norris J. Lacy, for example, commented: 'Camelot, located nowhere in particular, can be anywhere.'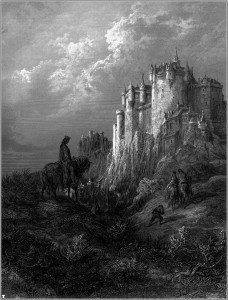 Nevertheless, arguments about the location of the 'real Camelot' have occurred since the 15th century and continue to rage to this day.
Sir Thomas Malory himself identified Camelot with Winchester, an identification that has remained popular over the centuries, though it was rejected by Malory's own editor, William Caxton, who preferred a Welsh location.
In 1542 John Leland reported that the locals around Cadbury Castle in Somerset considered it to be the original Camelot. This theory, which was repeated by later antiquaries, is bolstered, or may have derived from, Cadbury's proximity to the River Cam and the towns of Queen Camel and West Camel, and remained popular enough to help inspire a large-scale archaeological dig in the 20th century.
In A Bride for Bedivere, Sir Donald Bedivere, Jane's unwanted benefactor, is convinced by the claims that associate Arthur with Tintagel and the county of Cornwall. 'And here we have Carmaliot!' he tells Jane whilst showing her around the grounds of his home. 'This house was built on the ruins of a much older one. In our cellars there are signs of more ancient stonework still. So is it not likely that Carmaliot once was Camelot, the King's stronghold, set on the edge of the high moor and within sight of the sea?'
Earlier last year, a group campaigning against a new relief road near Wigan, famous for its pies and Northern Soul, wrongly concluded that eminent historian Graham Robb had identified the true location of Camelot. The new road, they said, would surely desecrate an ancient site. It seems, however, that they had got the wrong end of the stick: 'Camelot,' Graham Robb later wrote, 'like the Round Table, Excalibur and the Holy Grail, is fictitious … I do not claim to have found Camelot, any more than I claim to know the true location of Hogwarts School.'