We carry our roads with us
'Good old Rupert. Nothing's lost on you, is it? All grist to the sacred mill. But what comes out of all that grist? What makes the mill-wheel turn? And who's the miller?'
'Comes out?' Rupert asked. 'Poetry, of course. And I'm the miller. Who else?'
I said gently: 'And that's where you part company again.'
This time complacency was altogether absent. Britton concentrated his gaze on me, his mild, fleshy, transatlantic face puckered into a concentration that looked like anger. He said, feeling for words in an unfamiliar way: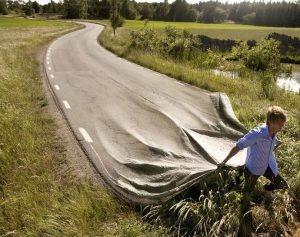 'We part company, all right … but there's only one way out that leads anywhere. The rest … the rest are false tracks, always winding back to the individual. On those roads you don't get any place.'
'On any road,' Rupert said, 'you can only go the way you want to go. We carry our roads with us. After all, what guides us? Only logic and experience.'
'No!' said Britton. 'That I deny.' His shapeless anger tossed his thoughts up and down, beyond his own grasp. 'There's more to it … more to it than that.' Pausing, he tried to juggle with them. He finished weakly, 'There's … intuition.'
Rupert inclined his small head to one side in its eminence.
'Yes?' he said politely.
Britton stared at him for a moment. I could see him fighting for calmness, and I saw him win. He looked ordinary again when he smiled, but certainly more impressive than he had during his earlier flurry of emotions. He was really quite harmless, and in his way, pleasant enough. I caught my own thoughts and pondered them. Did I despise him as much as that?
He said: 'We'll let it go, eh?'