An interminable night
I could no longer see my hand before my face: I might as well have been blind. I thought of the miners, who had worked down here. At least they had had lanterns. But even with lanterns they had feared the darkness of the tunnels. The knackers … On a pleasant afternoon, picnicking beside the lake, the notion had been something to shiver at and forget. It was different now. Little old wrinkled men, evil and malicious, who could take on monstrous shapes, appearing and vanishing at will. I was being silly, I told myself: it was an absurd country tale. But fear would not be subdued by common sense. If such things did exist, with the under-earth their domain … would they not, with the powers they possessed, know of this intruder into their kingdom? Might they not even now be travelling, silent and malevolent, along this tunnel in whose mouth I lay? I shrank back. Or climbing the shaft from recesses deeper still …? My heart leapt with fear.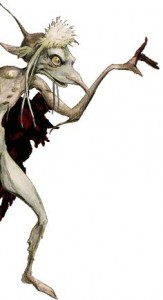 With hunger, thirst and terror, I did not believe I could ever sleep. Even without those tormentors, a rocky floor was the only bed I had. But in the end I slept, and dreamt wild dreams. I was with Harry on a ship and he, though no older, wore an admiral's hat. The sea was blue, a salt breeze blew and I was happy. Then the ship was no longer sailing, but berthed in a gloomy port, and I was aware of others – menacing figures, ugly faces. One in particular, whom I feared and hated. And the ship turned into the chapel at Carmaliot and strong arms held me powerless. The loathed one stood before me, and it was Edgar, but with my father's face.
I awoke, trembling, cramped and cold and wretched with fright. Blackness – no candle by my bed. No bed but rock, no sound but the sound of my own panting breath. I wept; then tried to check my weeping for fear the knackers would hear it.
Later, after lying huddled in misery for what seemed an age, I drifted into sleep again, and dreamt again. In this dream there was no horror. I was back in Portsmouth, in the house at Pratt Street, and all the family were there except Papa. I did not know why he was absent and did not care. It was Christmas and we were feasting – on goose with sage and apple stuffing, roast potatoes and peas and cabbage. Everyone was noisy and cheerful – a fire blazed in the hearth. I told Harry I was thirsty and he poured me a glass of sarsaparilla. I drank it, and asked him for another and another after that, and he poured them for me, laughing at my having a thirst that could not be satisfied. Then I awoke. The thirst was there, but nothing else: no blazing fire but blackness.
So the night interminably passed.