Back down the rat hole
Henry had belayed the top of the ladder on a couple of irons driven into the ground, and was watching them to make sure they held firm. The only light was from his headlamp, which lit up a small area that included the lip of rock, over which they had climbed.
Henry said: 'Tell Albrecht to hold on down there. I'm going down myself and we'll see about getting the rest of the gear up. Watch these irons, Peter. I think they're O.K., but it's best to be sure.'
As Henry disappeared down the ladder, Heather said: 'I wonder what it's like up here. Flash your torch, darling. Let's have a look around.'
'I'm not sure we ought,' Peter said. 'Still, perhaps just a little flash …'
He directed the beam of the torch from the top of the ladder into the surrounding blackness. They had a glimpse of a vaulting chamber, stretching away all around them, of great gleaming pillars and a flash of crystal fire. Then Peter swung the torch back to light up the projecting irons which held the ladder.
Heather gasped. 'But it can't be …! We've climbed through a crack in the roof of that other cave. We can't possibly be in another one ten times as big.'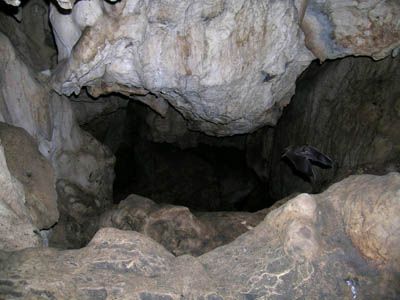 'The whole damned mountain must be hollow,' Peter said. 'I can see now what old Henry was grinning about. This looks a bit better than squeezing back down that rat hole.'
The cheerful exultancy of his tone provoked Cynthia into replying. She said:
'Does it matter how big a grave is?'