Disturbance of the peace
He half-carried, half-pushed her to the police van. She was dazed, and saw things in unconnected tableaux. The television news van of which he had spoken, with a figure slowly panning a camera. Pigeons settling on the grass and then, disturbed, flying away in a shimmering cloud. Police bending round a figure, also in blue uniform, on a stretcher. A youth trying to kick himself free as he was dragged along by his arms and legs.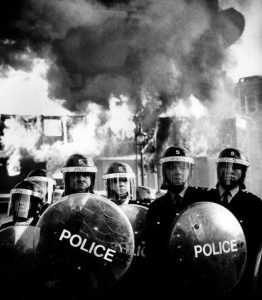 'Right,' he said, 'get up there.'
The van was half-full, mostly of youths but with one or two dishevelled girls. Their faces were either sullen or frightened; they were all silent. Jane had a foot on the step, when a voice said:
'Not this young lady.'
Another policeman. She had an impression of tallness and ugliness, a face that at first glimpse looked puffy and badly shaped. She was afraid of him, and of what she was being reserved for. The man holding her arm said:
'Taking her to the station to be booked, sir. Causing a disturbance.'
'No,' the ugly one said. 'She tried to stop them bringing the horses down. I had the glasses on her. Find her something to cover herself with.'
Someone gave him a police cape, and he put it over her shoulders.
He smiled, and his face looked different.