In the shade of the avocado tree
Despite the concentrated heat of mid-afternoon, they were very cheerful indeed over the last stretch. They broke into the clearing just behind Sweeney's hut, and saw Sweeney sitting in the shade of the avocado tree on a stool he had made himself. He got to his feet as they came up.
'Well,' he said, 'did you make the ascent?'
'Not quite,' Lydia said.
Candie said: 'We decided the last bit was sacred to the gods. Or that particular one, anyway.'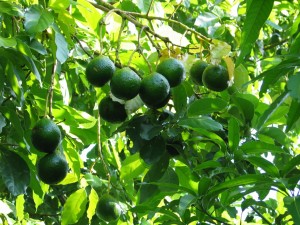 'There's a wide patch of lantana not far below the summit, Sweeney,' Marriott said. 'Just about impassable, I would say.'
'All the way round?' Sweeney asked.
'As far as we could tell. It was difficult to follow it inside the cloud.'
Sweeney did not seem surprised, merely interested. He said: 'So the expedition was a failure.'
'I wouldn't say that. We know more about the island. There's a very pleasant little valley to the east of this. And we've located a possible egg supply – a nesting island.' He looked around. 'Where is Billy? Has he still got the boys out diving?'
'All but one,' Sweeney said.
There was something in his tone which caught their attention.
'All but one?' Marriott echoed. 'Has there been an accident?'
'It depends what you would call an accident,' Sweeney said. He was bland, unperturbed by what he had to say. 'Billy shot him.'