Is anyone alive but me?
He went down the dip and up the other side, then climbed over a flattened hedge and headed across a ploughed field towards the airport.
The field was tilted, but the landing-strip, in addition, was buckled and twisted, and riven by huge fissures. Near one of the hangars a Viscount sprawled, starboard wing crumpled, fuselage broken in two. Matthew stared at it. To him, as to most islanders in recent years, it was the airport rather than the harbour which was the link with England. No planes would land here again. Hangars might be rebuilt, and cracks filled in, but what would be the point, with the ground itself at this angle? Standing in the middle of the sloping emptiness, he shouted: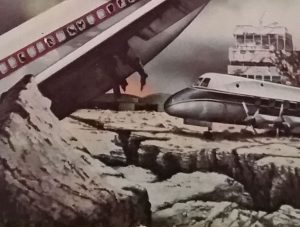 'Is anyone there? I'm here. I'm here! Is anyone alive but me?'
The emptiness drowned his voice. He walked on across the field, towards the Forest Road. There were houses, crumbled like the others, and he kept away from them. He headed down towards the valley of the Gouffre, where the Carwardines lived. Had lived – he had no hope now of finding them alive.
Even so, when he came to what was left of the house he set to work, pulling away bricks and plaster and wood and broken sticks of furniture. He found them at last. They were huddled in the remains of their bed, clutching each other as they must have done when the shock woke them and, in almost the same instant, killed them. Matthew stared at their bodies unhappily. They were to have come to him for a drink on Sunday – tomorrow morning. There ought to be something he could do. Dig a grave, perhaps, and bury them. But he was tired, drained of energy, and the spade was back at Miss Lucie's. All the same, he could not leave them exposed like that. He heaped broken plaster over them, till they were hidden again.