John Christopher in Guernsey
The SYLE Press, in association with Guernsey Walking Tours, is launching their new edition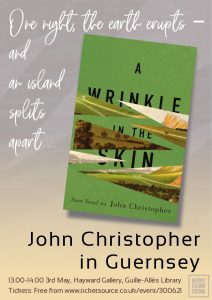 of A Wrinkle in the Skin on Friday 3rd May at the 2019 Guernsey Literary Festival.
Under the penname 'John Christopher', Sam Youd became particularly renowned as a writer of dystopian fiction, including the seminal work of speculative fiction, The Death of Grass (today available as a Penguin Modern Classic), and a stream of novels in the genre he pioneered, young adult dystopian fiction, beginning with The Tripods (later filmed by the BBC).
Sam wrote more than half of his 57 published novels while living in Guernsey; and it was the island of Guernsey that specifically inspired both Sarnia (the first of his gothic romances under the pen name Hilary Ford) and A Wrinkle in the Skin.
Tickets for the launch event are available free from Ticket Source.