Pressing onwards
At last, Cynthia halted, resting her left side against the inward arch of the rock. Conscious of the added pull on the rope, Albrecht turned around and flashed the torch on her. She did not look up. She was aware of Henry's coming and standing beside her, but all these things were unimportant in comparison with the tiredness and cold and hunger that shrieked in her mind.
Henry said: 'What's up, Sinner?' She still made no reply. 'It shouldn't be long before we find somewhere we can rest.'
Albrecht had come back. He said: 'She is too weary? Is it possible that we can help her, one on each side?'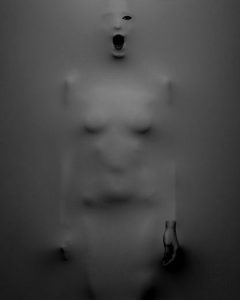 Henry said: 'Sinner! You've got to make an effort to get going. Come on, now.'
'We could help her,' Albrecht repeated.
Henry stared at him. 'Don't leave that light on when we're not on the move.' Darkness fell round them again. His voice was harsh. 'She's dead tired, I know, but so are we. If we put that kind of strain on ourselves before it's absolutely necessary, it's probable that you and I will go under first – and then she's finished anyway.'
Their voices came to her through the cotton wool of her exhaustion. Henry's appeals and Albrecht's suggestions for helping her were both ineffectual, but the objectivity of Henry's final rejoinder made an impression. The fact that he spoke of her in this way – as though she were a stranger, or an animal even – burned through the cotton wool and set resentment flickering. It was enough to let her break out of the paralysis of indifference and fatigue.
She straightened up. 'All right. I can go on for a bit longer.'