The purgatorial tread-wheel
As she plodded and stumbled forward, the desire to surrender, to stop struggling and let the river take her where it willed, began to rise again, like the anticipation of a secret pleasure. But they would not let her; they were both determined to keep her, along with themselves, in this purgatorial tread-wheel of featureless water and rock and blackness.
If only she were not roped … She told herself how easy it would be, between the flashes of light, to let herself slip silently away. It would be too late to do anything by the time they knew of it. She wondered at her earlier terror of death by drowning. Any kind of death was peace.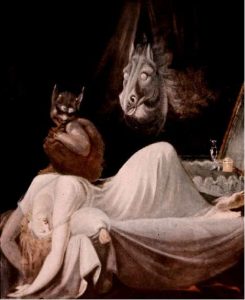 She remembered the knife Henry had given her with a leap of joy as positive as the resentment which had spurred her into moving again. She could cut herself free … She had begun to fumble for it in her pocket before she realized it would not help her. As soon as she cut one rope, one of them would know of it. They were gaolers, one before and one behind, and they would not let her go free.
For a moment she hated them both as, she thought, she had never hated anyone before. She wanted to cry out against the injustice of their tyranny, but she no longer had the strength to cry – to do anything but lurch, one foot pushed forward after the other. She was in a childhood nightmare again, where somehow the rooted feet had to be made to move.