The second Lady Bedivere
From his pocket he took a small black velvet bag, tied with black cord. He undid the cord and opened it, tipping the contents into his free hand. Stones flashed in the lamplight. They were a pair of eardrops: of sapphire and pearl and little diamonds. He put his hand out, and I took them.
'They are very beautiful,' I said, 'but …'
'Put them on. My hands are too clumsy for so delicate a manoeuvre.'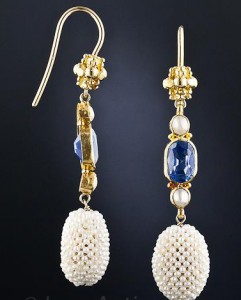 He watched while I did so, moving my ringlets so they could be seen. I had glanced at Lady Bedivere and seen her nodding and smiling. I could not argue over the gift. I said:
'It is too magnificent a present. But I thank you most sincerely.'
'They are from her – from Michael's mother. And this.'
He brought out a second bag from his pocket, and spilled its contents out in tum. I felt like gasping at the sight. Pearls and sapphires again, but more than fifty times the number of those in the eardrops, and of far greater size. They were studded on to a chain of gold, a choker necklace. And in the centre of the chain, half a dozen big sapphires framed a magnificent diamond.
Sir Donald put his hand out, holding it, but I drew back.
'I could not take it, sir. The eardrops, yes, but nothing so costly as that.'
'I had them made for her,' he said, 'as a set. For her, and now they come to you. But I will put this on for you myself. It is not too difficult a matter, even for an old man.'
Light dazzled from the diamond; then he stood at my back. I felt the necklace cool against my flesh, and bowed my head to let him fasten it. I could see Lady Bedivere, the broad face smiling still. She had been Sir Donald's wife for more than a dozen times as long as his first lady – had borne him two healthy sons against one sickly one. What could she think of this resurrection of the past, and its linking with a future that was designed to see her son disinherited? Her broad neck carried a string of pearls, nothing like the necklace I wore.
She was smiling and nodding, and I felt abashed. I did not think I could have been so generous.