Three out of four
During the mid-morning break, Rod sat, as usual, with Whitey. They were companions because they had opposite bed-spaces in the tented camp down in the valley. Apart from this accident of proximity, they had nothing in common. Whitey was fifteen years Rod's junior, an East End Cockney and a Jew. He had been a cab-driver, inheriting the taxi from his father, and grandfather before that. He was quick-witted and voluble, foul-mouthed, always – despite the guards' insistence on tidiness and hygiene – a bit on the scruffy side. Under normal conditions, Rod thought, they would have nothing to say to each other, no point of contact. Here they were friends, and the friendship was as real as any in his life had been: a great deal more important than most.
From somewhere, Whitey had got hold of a cigarette. They were completely forbidden in the camp, but there was some illicit traffic. Rod himself had made no attempt to smoke. There was a temptation, with the monotony and hardship of the life here, to do so, but he could not face the thought of scrounging and bargaining which it would involve. He humped his back, though, on the grass, so that Whitey could burrow down behind him, his face close to the ground, and take a few surreptitious drags, blowing the smoke into a rabbit-hole. The guards, with their dogs and guns, were thirty yards away, but watchful.
Above them, the Citadel rose against the blue sky. It was based, as were the Citadels being built all over the country, on a design which had come to Brother James in a vision. It was relatively simple, consisting of four battlemented walls enclosing a courtyard with a chapel at its centre. A tower rose at each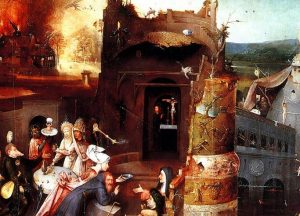 corner. In the case of this Citadel, two of these had been completed, and a third was rising rapidly. The fourth was a source of hope and anxiety to Whitey. His aim, as a personal act of dedication, was to defecate in the foundations of each one of them. He had succeeded with the first three, though in the case of the third coming within a hair's breadth of being spotted by one of the guards. The fourth represented for him the final challenge, which he was determined to meet and overcome.