The hurrying years
Throughout the world there was change, violent and uncompromising. Wars, tidal waves, volcanic eruptions; and the relentless revolution of the seasons. But to see it, to catch the monster with claws outstretched, was hardly to be hoped for. All his life, it seemed, things had been taking place behind his back. Most vividly he remembered in his childhood how the railways had leaped across the country and his own immature horizons, secretly and by stealth. From the time the family left Charnock the outside world had always been ahead of him, always presenting accomplished facts. First there had been London, busy with its vast Victorian flux. On all sides new buildings, new constructions, towered and flowered. And though one might watch day after day the slow toil of the workmen, the swinging into place of iron girders and mountains of masonry, always at the end the thing slipped away, and presented itself suddenly as completion. And then, when he went back to Charnock to stay with Aunt Sara, he found that the monster had been there before him, and left a railway station.
So it had gone on, always quietly, always illicitly. For tap as Mr Garland would the barometer of his soul,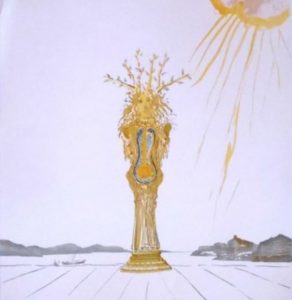 it was always set steadily to Fair, and always the weather of the world stormed in on him, shocking him by its insistent Change. Out of the golden haze of the future three wars had rushed on him, like ignoble, devouring waves, and with their recessions sucked away each time more of the fragments shored against his ruins. Time, his unsuspected friend, continually betrayed him.
But now, in this momentary apprehension, he felt an achievement. For once he was on equal terms with the hurrying years. While he had watched, absently but intently, change had taken place. Complacently he listened to the sound of water dripping from the church roof, as the snow melted. And through it he became aware that the Vicar had ceased to speak. His gaze returned from the high, glinting roof of the church to the snow-hillocked churchyard, and to the rough brown gash at his feet. He watched with furtive fascination as the first clods fell, rapping vainly on the polished oblong box. Mrs Hallam would not hear their impertinence. Realising her new aloofness, her inability to touch or be touched, he ventured on an impertinence himself. Rosemary, he thought. Rosemary.