Going out tonight
Her father was already sitting in his high-backed wooden chair mauling the remains of a kipper in his hands. He looked up as she came in, blinking in the light.
''Ello,' he said. 'You're late, Else. Been workin' late?'
'Yes,' she said. 'Missed my bus, too. My kipper ready, Mum? I haven't much time.'
Her mother trotted out of the scullery like a small terrier. She carried the dish with the kippers and her cheap horn-rimmed spectacles were misted as usual.
''Ello, Else,' she said. 'What's the 'urry?'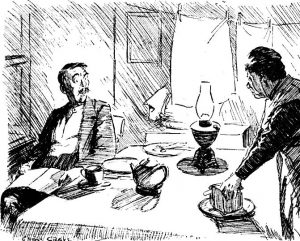 Elsie sat down and, reaching for the teapot from the hob, poured herself a cup. The tea hissed as it came out of the spout, but there were still the tea-grouts she hated swimming on the surface when the cup was full. She began picking them off carefully with a spoon.
'Going out to-night,' she replied. 'Mum, you didn't let the water boil properly.'
'Where are you going,' her father asked. 'Pictures?'
'Yes,' she said.
He insisted coyly: 'With a boy?'
'No,' she said shortly, 'with Hilda.'
She wondered why she lied about it to them. There was no real need, as far as hindrance was concerned. Had she told them about Lance they would not have pried far; they were too humble and beaten by life to have more than an idle curiosity over their daughter's activities. She thought with some bitterness that if she had said: 'I am leaving to-night to live with my Boss,' they would only have remonstrated mildly. And yet it was essential to lie about Lance, about everything in the world of Elise. That world and the world of Elsie could not be permitted to touch.