In the dark or with the lights on?
Leslie asked: 'What does happen, anyway? Ghosts? Long white figures?'
Howard had found another chair for himself and carried it round to wedge himself in between Leslie and Helen. I saw Cynthia lean forward on her elbows, her body slackly drooping towards the table, to look at Howard as he sat down. Then deliberately she leaned sideways against Helen, and Helen put her arm out to draw her closer and to hold her.
Piers, still blandly informative, said to Leslie: 'No long white figures yet. We've only been sitting for three months. Some very queer stuff, though. Messages through table rapping – very interesting, some of them.'
Leslie's small mouth smiled watchfully.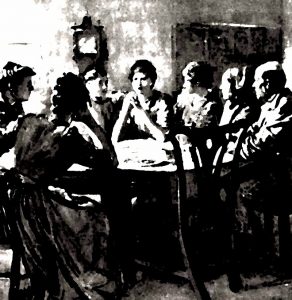 'In the dark or with the lights on?' he inquired.
'We sit in the dark,' Piers said, '– at present.'
'That will suit us,' Leslie said. He put his arm round Lulu's waist, paying her, pitying her. 'That will suit us all right.'
'It suits everyone,' Howard said. 'Everyone. What about you, Cynth? Do you feel like joining us round the table when we go back?'
Cynthia smiled at him and looked up at Helen.
'Shall we, darling? Do you feel like giving the spooks a fling?'
Helen said: 'I suppose we might as well, if it's going to be a sort of party.'
Piers said: 'Well then. Let's be moving.'
The two Americans were still leaning against the side of the pub as we left. I was on the outside of the group and one of them came over and accosted me.
'Can you tell me, friend, how I should get to Piccadilly Circus?'
'Gloucester Road Station,' I told him. 'First on the left.'
'Thanks,' he said. 'I aim to get me a piece of old England.'