A desolate sight
While they ate, he told them something of his routine. He had an alarm clock to wake him at six-thirty. He got up then, bathed, sometimes shaved, and went to the galley to make himself breakfast: coffee, toast and preserves. Then he inspected ship, did what cleaning up was necessary, and went on shore for his daily constitutional. He did this whatever the weather, and had been engaged on it at the time that Matthew found the ladder and came on board.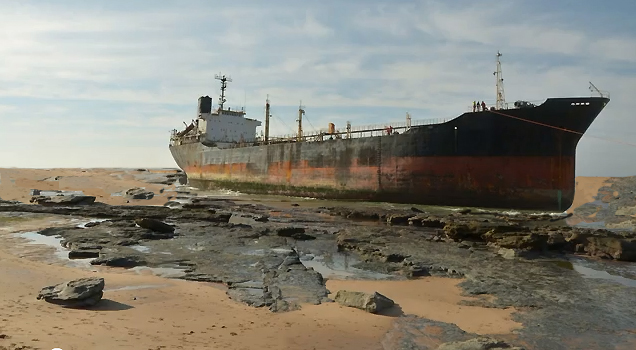 In the early days of being on his own, he had worked in the afternoons as well, tidying up after the shock. Now this was unnecessary and he spent his afternoons by the pool or, in bad weather, with gramophone records and films. There was a ship's library but he was not, Matthew gathered, a reading man.
On this particular afternoon, he took Matthew and Billy on a tour of the ship. He was cheerful in manner, factual in description. It was as though they were official visitors, friends of a friend, and the tanker herself tied up in the Port of London, resting between voyages. He pointed out the damage she had suffered but spoke of it briskly; his voice carried the implication of ship-repairing gangs in the offing. They went up on the bridge, whose wings reached out on either side of the tower. They were well over a hundred feet above the sea bed here, with the radar and signal mast high above them again. The tanker's great length stretched away into the distance. The rain had stopped and visibility was better: they could see mile after mile of mud flats, shingle beds and rocks. A desolate enough sight, Matthew thought, to drive a man mad.