Home thoughts from abroad
She had chosen to remain on board because she did not feel like sight-seeing or merry-making, and because Marriott had been so persistent in pressing her to come with them. She considered how much she disliked Marriott: she had always disliked short, dark, dapper men, and the brown, silky, well-groomed beard was a final affront. Remembering the incident of the pudding spoon, she shivered a little with nausea.
Smells came over the still waters of the harbour, unidentifiable, disturbing in a way that she was not sure if she liked or disliked. And distant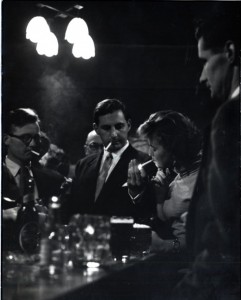 cries, in a language she did not know. A large catamaran, with twin red sails, was cutting across the bows of a motor-launch which was chugging out on one revved-down engine. Across the harbour the town glittered white under blue skies lightly strewn with cirrus. She thought suddenly of London, and so of John. He would be leaving the office about this time, joining the crowd that surged towards Holborn Viaduct station. Or perhaps calling in at the Printer's Devil for a drink. She smiled; that was, on the whole, more likely. Standing with one elbow on the bar, a pint of light ale in front of him, talking boisterously, laughing from time to time that deep reverberating laugh which, she so well remembered, drew people's attention to him from the furthest corner of the most crowded bar. He would not think of her until later – in the compartment crowded with strangers, walking alone along the road from the station to the neat detached house with the garden he was so proud of, and the three boys he was so proud of, and the wife with whom he spent his evenings and week-ends bickering.