I used to bowl
Lance, concentrating on Mrs Graham and Gordon and the cake-stand being lifted in his mother's fingers, heard Eve's soft, cheerful voice breaking in relentlessly, testing to its limit the courage that had brought him back from the kitchen.
'Let me have a look at you, Lance,' she said. 'It's ages since I saw you last.'
He turned quickly, in the same way that at night when his bedroom window creaked he would run across the room and gaze out, searching the night sky for the bat-man hovering in the shadows. The only other time he had seen Eve since the accident he had made his eyes concentrate on her face, to avoid seeing the crooked body. But her deformities, seen vaguely from the edge of his vision, had been as terrifying as the thought of the bat-man hanging just below the window-sill. Now he gazed fully at her.
'How you've grown,' she said. 'Tell me, Lance – is it too early for cricket?'
The claw held a saucer, while her right hand lifted the tea-cup to the small, red mouth.
Lance said: 'I suppose it is, but we're keener on cricket.'
'Yes,' Eve said, 'it's a good game. Do you play for your House, Lance?'
The bat-man had disappeared before the intensity of his gaze. He said eagerly:
'I did last season for the Juniors. I'm a Senior this year. I might get picked, though. Our Seniors aren't much good.'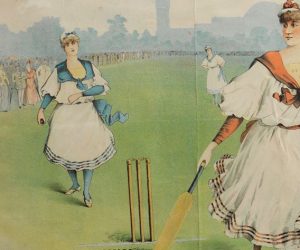 Eve said: 'I played for my school. I used to bowl. Under-hand, of course. They didn't let us bowl over-arm because we were girls.'
Lance felt himself whitening as the horror drifted back. He felt quite helpless. Desperately he tried to wrench his mind from its contemplation. He looked across the room. Mrs Graham had paused in her eating to indulge in another paroxysm of choked breathing. Gordon was munching a cake. Mummy sat quietly, watching and yet seeming not to watch. The horror was not touching them. There was no help for him. This was more real than the bat-man, and would not disappear when he looked at it. He could only run away.