Majestic artefact of the vanished world
When he first saw the ship, he did not believe it. A mirage, he thought confusedly – but surely mirages required hot dry air, and brightness? Or an hallucination … Only the stern and twenty or thirty feet behind were visible, the rest being hidden by a ridge of rock. The element of fantasy lay in the fact that the ship seemed to be completely undamaged, her bows white and unscarred though oddly lacking in elevation. She rested on even keel in the sand, in an incredible act of balance.
Billy, clutching his arm, said: 'Look! What sort is she, Mr Cotter?'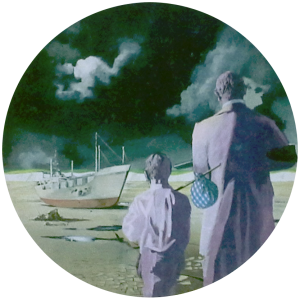 'I'm not sure,' he said. 'We'd better go and take a closer look.'
As they came round the ridge, the trick of balance explained itself; so did the lowness of her bows. The ship rested amidships on a reef. It was nothing very much but it held her firmly upright. As to the puzzling nature of the stern section, that was made clear in the shock of seeing her full length. This was a tanker, one of the modern giants. She must, Matthew calculated, be eight hundred feet or more in length, getting on for a hundred thousand tonner. Her lines ran back, very low and straight, to a single squat tower at the stern. She might have buckled somewhat at the point of impact, but from where they stood there was no sign of damage at all.
Billy said: 'Isn't she terrific! Do you think we can go on board?'
She lay there, superbly erect on the dry sea bed, all grace and power and purity, a majestic artefact of the vanished world. She had ridden the departing waves, and dropped here like a bird.