Perhaps it had got colder
They went out again into the fog and this time, coming from the fire-warmed room, he felt the bleakness of the frost and the damp air striking through, as it seemed, to his very thoughts. He pressed his hands into his trouser pockets, against the burning warmth of his thighs. Lionel and Robert were in front; half real, half shadows, walking along together and talking of the figure 8 they had been practising all morning. On either side of him, close and substantial, were John and the girl, Rosemary. He looked at her cautiously. He saw the white clouds of her breath torn away from the corner of her mouth as she walked, and blew his own breath out between pursed lips like a steam-jet. He hadn't noticed it during the morning. Perhaps it had got colder. He felt the beginning of numbness in his finger ends.
They reached the lake, and sat against the frozen slope of the bank adjusting their skates. Bending down,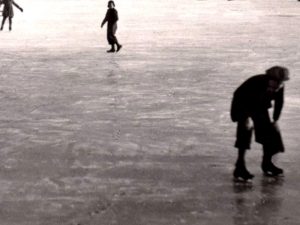 Alfred saw the dull, powdery surface of the ice, flawed with scratches and scars by the morning's skating. The fog, licking all round them with wet tongues, seemed less yellow; more coldly white and bleak, but no less thick. Over on the left Lionel stood up with a shout and glided away. Alfred's own left boot was still untied and his fingers fumbled with it awkwardly. Robert balanced upwards, too, and struck off. He skated round in a curve, coming back to where the other three sat. He stopped, rockily, in front of Alfred.
'Too cold for little Alf?' he said. 'Can't he tie his boots up then? Better go back to the house and sit in front of the fire.'
Alfred looked up at him, despairingly. How did Robert manage to read his vague doubts and apprehensions, to twist and magnify them to torment him? And why, after the unquarrelsome morning? He had not exulted when Lionel humiliated Robert; not openly anyway. He tied the knot in his bootlaces clumsily, and stood up. Robert, in a quick turn, swooped down and hit him behind the knees with his arm. He fell, sprawling, on the cold, gritty ice. Lionel dissolved towards him out of the empty mists, and helped him to his feet. He was all strength. He said:
'Still falling over, young 'un? You should have your skating legs by now.'
'It was Bob!' Alfred protested. 'Bob knocked me over as I was getting up.'
Lionel looked down, god-like and careless.
'Don't tell tales, Alf. It does no good. Never tell tales.'
He turned, and was gone after Robert through the soft, shifting barrier of air.