The roof lifts off
Mamma said: 'Isn't it lovely, Anna? Have you thanked Solly?'
Anna turned round. She was smiling and I think the smile deceived the two adults; Solly, at any rate. It did not deceive me. I knew that for some reason she was disappointed. I could not think why.
'Thank you very much, Solly,' Anna said. 'It's very nice.'
'The roof lifts off,' Solly said. He showed her, unfastening latches on four sides and taking it off. He stood with it for a moment, undecided, and then put it down on the sofa. 'You can put your dolls to sleep in the bedrooms.'
'Yes,' Anna said. 'It's lovely, Solly.'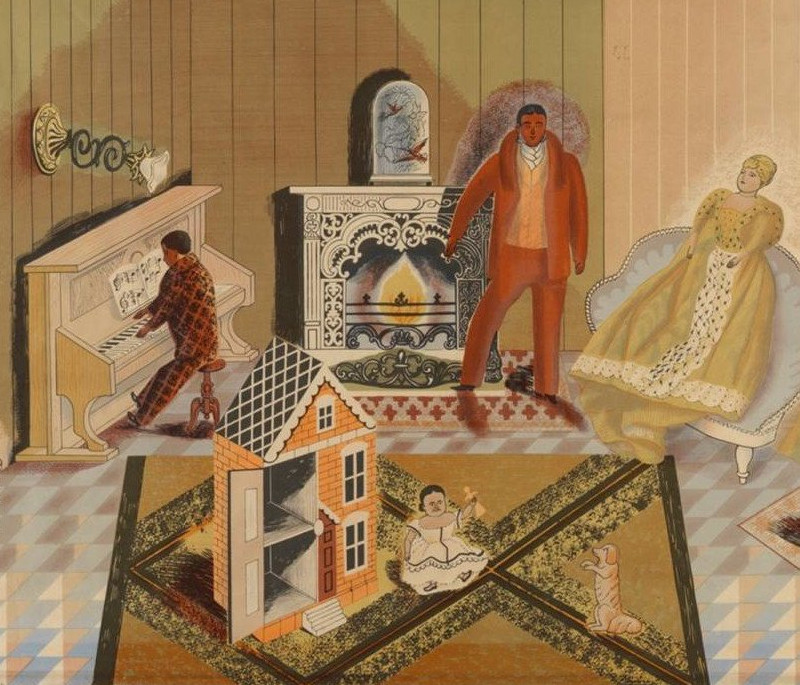 He took out his watch. 'I must be away now. Shall I put the roof back on first?'
'No, thank you,' Anna said. 'It's all right.'
Mamma and Solly left the room together, and we saw Solly's bulky figure pass the window as he went on his way to synagogue. Anna stared at the doll's house. I limped over to stand beside her. She watched Solly disappear, and burst into quiet bitter tears.
I said timidly: 'What's the matter, Anna?'
Still crying, she picked up her dolls and began putting them through the roof into the bedrooms. There were four bedrooms and she put a doll in each. She put a fifth doll in with the smallest; the one remaining was in any case too big to fit in any of the rooms. It was her favourite doll, Nellie.
'They won't go in,' she said. 'There are only four bedrooms and they aren't big enough.' She looked at the doll's house in helpless misery. 'The walls don't come down. The windows haven't got glass in them.' She looked around her, at the small room which the sun never reached, and then back to the doll's house. 'And there's no bathroom and closet!'